Andres Milioto
PhD Student
Contact:
Email:
amilioto@

null

uni-bonn.de
Tel: +49 – 228 – 73 – 60 190
Fax: +49 – 228 – 73 – 27 12
Office: Nussallee 15, 1. OG, room 1.008
Address:
University of Bonn
Photogrammetry, IGG
Nussallee 15
53115 Bonn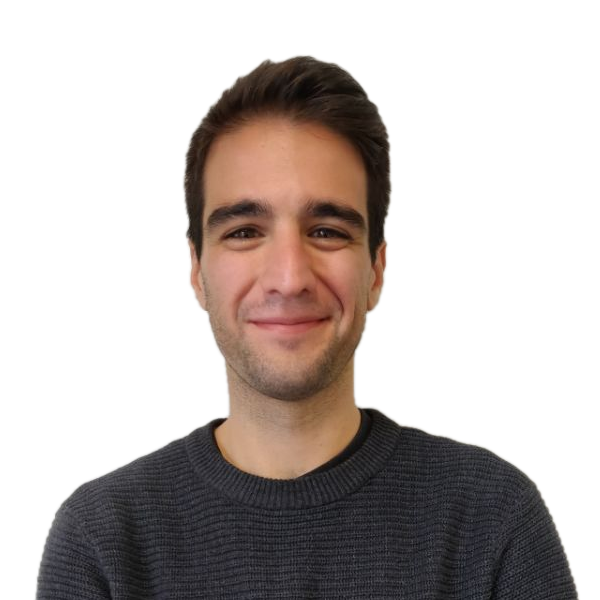 Links
Google Scholar
|
LinkedIn
|
Research Gate
|
Github
Research Interests
Deep Learning for Robotics
Computer Vision for Robotics

Artificial Intelligence

Real-time stuff
Projects
Flourish – Developing computer vision algorithms to detect crops and weeds in the context of autonomous precision agriculture robots. Focusing on novel machine learning algorithms to aid autonomy of agriculture robotics solutions.
Bonnet – an open-source training and deployment framework for semantic segmentation in robotics.
StarForkWatch
Bonnetal – Another open-source training and deployment framework for perception in robotics.
StarForkWatch


SemanticKitti: A Dataset for Semantic Segmentation of Point Cloud Sequences: .

Lidar-Bonnetal – And open-source library for training and deploying semantic and instance segmentation using LiDAR point clouds from rotating sensor.
StarForkWatch


Alfred: Leading development effort of autonomous multi-sensor robotic platform based on Clearpath Husky A200.


goPro-meta – Software for extracting meta-data from goPro Hero5 cameras, such as GPS information, for each frame.
StarForkWatch
Short CV
Andres Milioto is a Research Assistant and Ph.D. Student at the University of Bonn since February 2017. He received his Electrical Engineering Degree from Universidad Nacional de Rosario, Argentina in June 2016, where he was best of his class. During this time, he was involved in several robotics projects for private companies, including the construction of a large-scale iron pellet stacker and software development for robotics arms in welding applications, in Argentina, Mexico, and Italy. The 2 years preceding his Ph.D. he worked for iRobot (USA) on Software development and Hardware integration, developing behaviors and communication protocols for state-of-the-art, SLAM-enabled, consumer robots.
Teaching
M26-PIROS – Solving Online Perception Problems in ROS – Winter Semester 2017
M26-APMR – Advanced Perception for Mobile Robotics – Winter Semester 2018
Kinematic Multisensor Systems – Both Semesters – 2018/2019/2020
Awards
Finalist "Best Systems Paper" RSS 2020.
Winner "Best Demo" Award (Bonnet), Workshop on Multimodal Robot Perception, ICRA 2018, Brisbane, Australia.
Finalist "IEEE ICRA Best Paper Award in Service Robotics" ICRA 2018, Brisbane, Australia.
Best in 2015/2016 class, Electrical Engineering, Universidad Nacional de Rosario, Argentina.
Publications
2021
2020
2019
2018
2017
A. Milioto, P. Lottes, and C. Stachniss, "Real-time Blob-wise Sugar Beets vs Weeds Classification for Monitoring Fields using Convolutional Neural Networks," in

Proc. of the ISPRS Conf. on Unmanned Aerial Vehicles in Geomatics (UAV-g)

, 2017.
[BibTeX] [PDF]

UAVs are becoming an important tool for field monitoring and precision farming. A prerequisite for observing and analyzing fields is the ability to identify crops and weeds from image data. In this paper, we address the problem of detecting the sugar beet plants and weeds in the field based solely on image data. We propose a system that combines vegetation detection and deep learning to obtain a high-quality classification of the vegetation in the field into value crops and weeds. We implemented and thoroughly evaluated our system on image data collected from different sugar beet fields and illustrate that our approach allows for accurately identifying the weeds on the field.

@InProceedings{milioto2017uavg,
title = {Real-time Blob-wise Sugar Beets vs Weeds Classification for Monitoring Fields using Convolutional Neural Networks},
author = {A. Milioto and P. Lottes and C. Stachniss},
booktitle = uavg,
year = {2017},
abstract = {UAVs are becoming an important tool for field monitoring and precision farming. A prerequisite for observing and analyzing fields is the ability to identify crops and weeds from image data. In this paper, we address the problem of detecting the sugar beet plants and weeds in the field based solely on image data. We propose a system that combines vegetation detection and deep learning to obtain a high-quality classification of the vegetation in the field into value crops and weeds. We implemented and thoroughly evaluated our system on image data collected from different sugar beet fields and illustrate that our approach allows for accurately identifying the weeds on the field.},
url = {https://www.ipb.uni-bonn.de/pdfs/milioto17uavg.pdf},
}