Nived Chebrolu
PhD Student
Contact:
Email:
nived.chebrolu@

null

igg.uni-bonn.de
Tel: +49 – 228 – 73 – 29 03
Fax: +49 – 228 – 73 – 27 12
Office: Nussallee 15, 1.0G, room 1.007
Address:
University of Bonn
Photogrammetry, IGG
Nussallee 15
53115 Bonn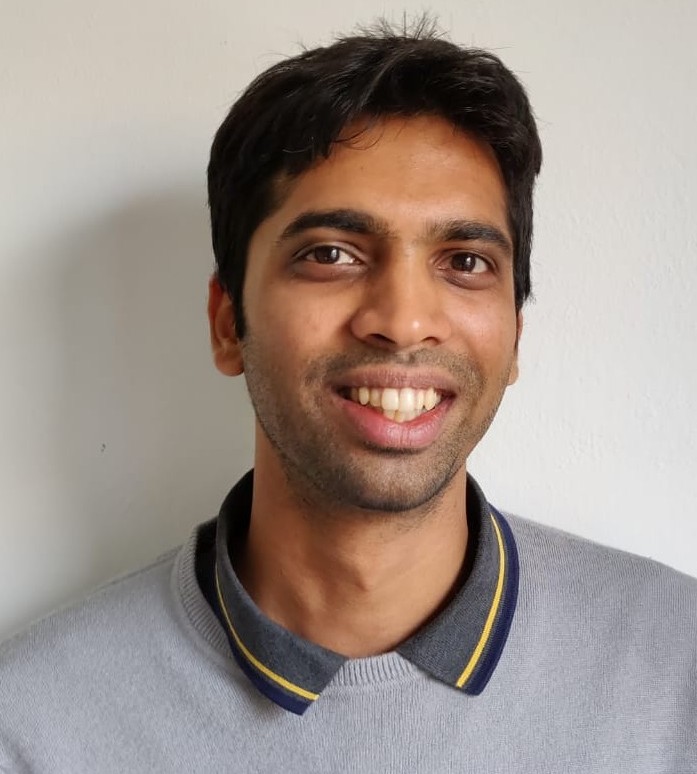 Research Interests
Agricultural Robotics
Simultaneous Localization and Mapping
Autonomous Robots
Long-term Registration
Short CV
Nived Chebrolu is a PhD candidate at Photogrammetry and Robotics Lab of the University of Bonn since September 2015. He received his Masters degree in Robotics from Ecole Centrale de Nantes (ECN), France and University of Genoa, Italy in 2015. His Masters thesis was about "Collaborative Visual SLAM" which he wrote with Prof. Philippe Martinet's group at ECN.
His research focuses on techniques for localization and mapping for robots in agricultural fields. He is interested in algorithms for long-term registration, as well as collaboration techniques between ground and aerial robots.
Projects
FLOURISH (2015-2018), H2020 EU-Funded Project, University of Bonn.
Automated analysis and intervention for precision farming using autonomous robots.
Teaching
Advanced Techniques for Mobile Sensing and Robotics [WS2018/2019]
Sensors ans State Estimation [WS2018/2019]
Publications
2021
2020
2019
A. Pretto, S. Aravecchia, W. Burgard, N. Chebrolu, C. Dornhege, T. Falck, F. Fleckenstein, A. Fontenla, M. Imperoli, R. Khanna, F. Liebisch, P. Lottes, A. Milioto, D. Nardi, S. Nardi, J. Pfeifer, M. Popović, C. Potena, C. Pradalier, E. Rothacker-Feder, I. Sa, A. Schaefer, R. Siegwart, C. Stachniss, A. Walter, W. Winterhalter, X. Wu, and J. Nieto, "Building an Aerial-Ground Robotics System for Precision Farming,"

Arxiv preprint

, 2019.
[BibTeX] [PDF]

@article{pretto2019arxiv,
author = {A. Pretto and S. Aravecchia and W. Burgard and N. Chebrolu and C. Dornhege and T. Falck and F. Fleckenstein and A. Fontenla and M. Imperoli and R. Khanna and F. Liebisch and P. Lottes and A. Milioto and D. Nardi and S. Nardi and J. Pfeifer and M. Popović and C. Potena and C. Pradalier and E. Rothacker-Feder and I. Sa and A. Schaefer and R. Siegwart and C. Stachniss and A. Walter and W. Winterhalter and X. Wu and J. Nieto},
title = {{Building an Aerial-Ground Robotics System for Precision Farming}},
journal = arxiv,
year = 2019,
eprint = {1911.03098v1},
url = {http://arxiv.org/pdf/1911.03098v1},
keywords = {cs.RO},
}

N. Chebrolu, P. Lottes, T. Laebe, and C. Stachniss, "Robot Localization Based on Aerial Images for Precision Agriculture Tasks in Crop Fields," in

Proc. of the ieee intl. conf. on robotics & automation (icra)

, 2019.
[BibTeX] [PDF] [Video]

@InProceedings{chebrolu2019icra,
author = {N. Chebrolu and P. Lottes and T. Laebe and C. Stachniss},
title = {{Robot Localization Based on Aerial Images for Precision Agriculture Tasks in Crop Fields}},
booktitle = {Proc. of the IEEE Intl. Conf. on Robotics \& Automation (ICRA)},
year = 2019,
url = {http://www.ipb.uni-bonn.de/pdfs/chebrolu2019icra.pdf},
videourl = {https://youtu.be/TlijLgoRLbc},
}

P. Lottes, N. Chebrolu, F. Liebisch, and C. Stachniss, "Uav-based field monitoring for precision farming," in

Proceedings of the 25th workshop für computer-bildanalyse und unbemannte autonom fliegende systeme in der landwirtschaft

, 2019.
[BibTeX] [PDF]

@InProceedings{lottes2019cbaws,
title={UAV-based Field Monitoring for Precision Farming},
author={P. Lottes and N. Chebrolu and F. Liebisch and C. Stachniss},
booktitle= {Proceedings of the 25th Workshop f\"ur Computer-Bildanalyse und unbemannte autonom fliegende Systeme in der Landwirtschaft},
year= {2019},
url= {http://www.ipb.uni-bonn.de/wp-content/papercite-data/pdf/lottes2019cbaws.pdf},
}
2018
N. Chebrolu, T. Läbe, and C. Stachniss, "Robust long-term registration of uav images of crop fields for precision agriculture,"

Ieee robotics and automation letters

, vol. 3, iss. 4, pp. 3097-3104, 2018. doi:10.1109/LRA.2018.2849603
[BibTeX] [PDF]

@Article{chebrolu2018ral,
author={N. Chebrolu and T. L\"abe and C. Stachniss},
journal={IEEE Robotics and Automation Letters},
title={Robust Long-Term Registration of UAV Images of Crop Fields for Precision Agriculture},
year={2018},
volume={3},
number={4},
pages={3097-3104},
keywords={Agriculture;Cameras;Geometry;Monitoring;Robustness;Three-dimensional displays;Visualization;Robotics in agriculture and forestry;SLAM},
doi={10.1109/LRA.2018.2849603},
url={http://www.ipb.uni-bonn.de/pdfs/chebrolu2018ral.pdf}
}

P. Lottes, J. Behley, N. Chebrolu, A. Milioto, and C. Stachniss, "Joint stem detection and crop-weed classification for plant-specific treatment in precision farming," in

Proceedings of the ieee/rsj int. conf. on intelligent robots and systems (iros)

, 2018.
[BibTeX] [PDF] [Video]


Applying agrochemicals is the default procedure for conventional weed control in crop production, but has negative impacts on the environment. Robots have the potential to treat every plant in the field individually and thus can reduce the required use of such chemicals. To achieve that, robots need the ability to identify crops and weeds in the field and must additionally select effective treatments. While certain types of weed can be treated mechanically, other types need to be treated by (selective) spraying. In this paper, we present an approach that provides the necessary information for effective plant-specific treatment. It outputs the stem location for weeds, which allows for mechanical treatments, and the covered area of the weed for selective spraying. Our approach uses an end-to- end trainable fully convolutional network that simultaneously estimates stem positions as well as the covered area of crops and weeds. It jointly learns the class-wise stem detection and the pixel-wise semantic segmentation. Experimental evaluations on different real-world datasets show that our approach is able to reliably solve this problem. Compared to state-of-the-art approaches, our approach not only substantially improves the stem detection accuracy, i.e., distinguishing crop and weed stems, but also provides an improvement in the semantic segmentation performance.

@InProceedings{lottes2018iros,
author = {P. Lottes and J. Behley and N. Chebrolu and A. Milioto and C. Stachniss},
title = {Joint Stem Detection and Crop-Weed Classification for Plant-specific Treatment in Precision Farming},
booktitle = {Proceedings of the IEEE/RSJ Int. Conf. on Intelligent Robots and Systems (IROS)},
year = 2018,
url = {http://www.ipb.uni-bonn.de/pdfs/lottes18iros.pdf},
videourl = {https://www.youtube.com/watch?v=C9mjZxE_Sxg},
abstract = {Applying agrochemicals is the default procedure for conventional weed control in crop production, but has negative impacts on the environment. Robots have the potential to treat every plant in the field individually and thus can reduce the required use of such chemicals. To achieve that, robots need the ability to identify crops and weeds in the field and must additionally select effective treatments. While certain types of weed can be treated mechanically, other types need to be treated by (selective) spraying. In this paper, we present an approach that provides the necessary information for effective plant-specific treatment. It outputs the stem location for weeds, which allows for mechanical treatments, and the covered area of the weed for selective spraying. Our approach uses an end-to- end trainable fully convolutional network that simultaneously estimates stem positions as well as the covered area of crops and weeds. It jointly learns the class-wise stem detection and the pixel-wise semantic segmentation. Experimental evaluations on different real-world datasets show that our approach is able to reliably solve this problem. Compared to state-of-the-art approaches, our approach not only substantially improves the stem detection accuracy, i.e., distinguishing crop and weed stems, but also provides an improvement in the semantic segmentation performance.}
}
2017
N. Chebrolu, P. Lottes, A. Schaefer, W. Winterhalter, W. Burgard, and C. Stachniss, "Agricultural robot dataset for plant classification, localization and mapping on sugar beet fields,"

The international journal of robotics research

, 2017. doi:10.1177/0278364917720510
[BibTeX] [PDF]

@Article{chebrolu2017ijrr,
title = {Agricultural robot dataset for plant classification, localization and mapping on sugar beet fields},
author = {N. Chebrolu and P. Lottes and A. Schaefer and W. Winterhalter and W. Burgard and C. Stachniss},
journal = ijrr,
year = {2017},
doi = {10.1177/0278364917720510},
url = {http://www.ipb.uni-bonn.de/wp-content/papercite-data/pdf/chebrolu2017ijrr.pdf},
}