Ignacio Vizzo
PhD Student
Contact:
Email:
ivizzo@

null

uni-bonn.de
Tel: +49 – 228 – 73 – 27 13
Fax: +49 – 228 – 73 – 27 12
Office: Nussallee 15, 1. OG, room 1.009
Address:
University of Bonn
Photogrammetry, IGG
Nussallee 15
53115 Bonn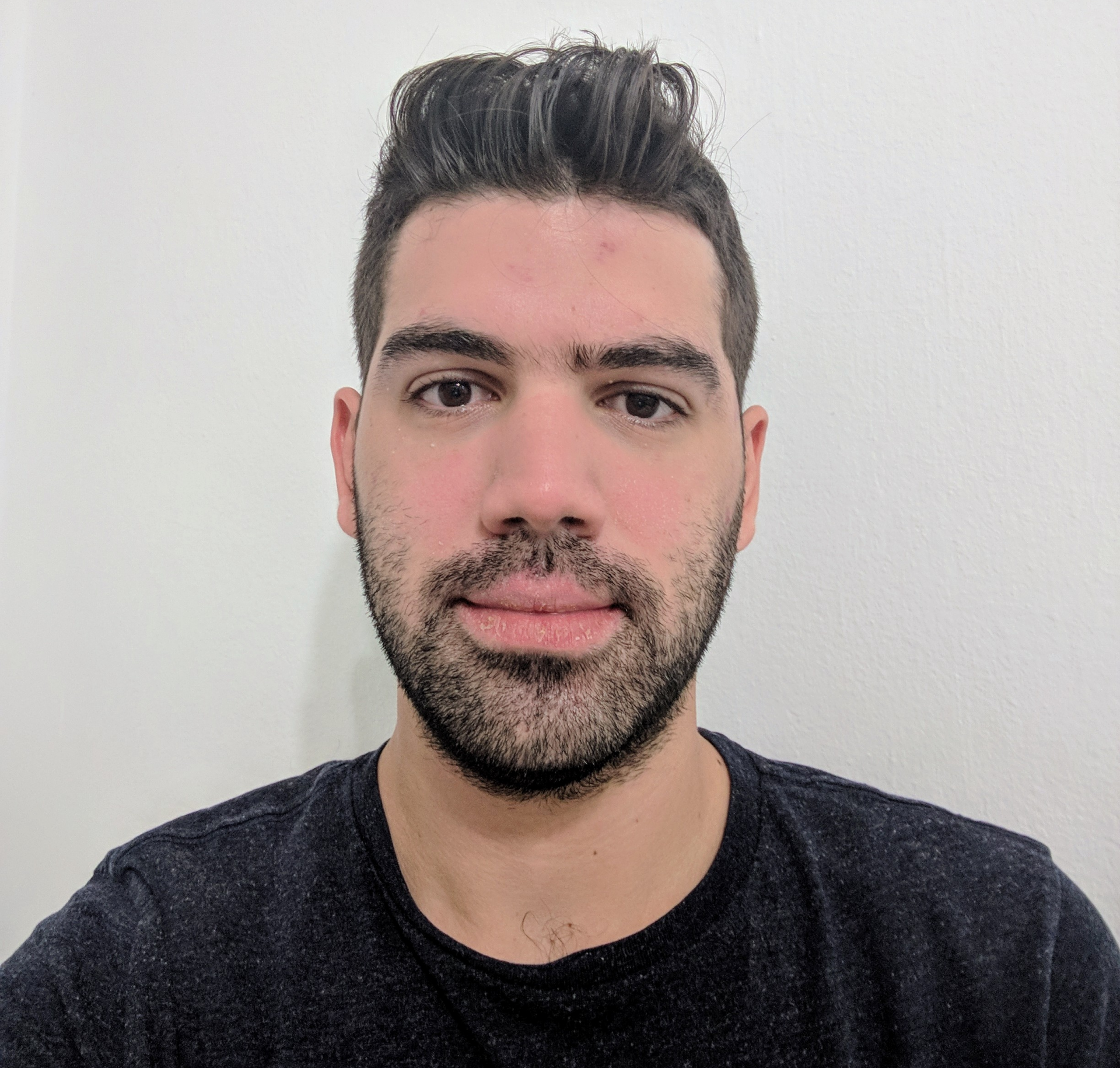 Research Interests
3D LiDAR-based SLAM
3D Surface Reconstruction
Localization and Mapping in Outdoor Environments
High-performance Computing
Short CV
Ignacio Vizzo is a Research Assistant and Ph.D. Student at the University of Bonn since January 2019. He received his Electrical Engineering Degree from Universidad Nacional de Rosario, Argentina in December 2015. In the 2 years preceding his Ph.D. he worked for iRobot (USA) on Software development, developing behaviors, and working on the navigation system for lawn-care consumer robots. Before starting in the robotics world, he worked for 2 years in the Energy Industry, doing field testing in diverse power generation plants (hydroelectric, solar, etc). During this time he developed a novel 3D-SVPWM algorithm to control a 3-phase power inverter.
Teaching
Modern C++ for Image Processing, 2019
Photogrammetry and remote sensing – 2019/2020
Sensors and state estimation – 2019/2020
Modern C++ for Image Processing, 2020 (Website/)
Publications
2023
2022
2021
I. Vizzo, X. Chen, N. Chebrolu, J. Behley, and C. Stachniss, "Poisson Surface Reconstruction for LiDAR Odometry and Mapping," in

Proc. of the IEEE Intl. Conf. on Robotics & Automation (ICRA)

, 2021.
[BibTeX] [PDF] [Code] [Video]

@inproceedings{vizzo2021icra,
author = {I. Vizzo and X. Chen and N. Chebrolu and J. Behley and C. Stachniss},
title = {{Poisson Surface Reconstruction for LiDAR Odometry and Mapping}},
booktitle = icra,
year = 2021,
url = {https://www.ipb.uni-bonn.de/pdfs/vizzo2021icra.pdf},
codeurl = {https://github.com/PRBonn/puma},
videourl = {https://youtu.be/7yWtYWaO5Nk}
}

X. Chen, I. Vizzo, T. Läbe, J. Behley, and C. Stachniss, "Range Image-based LiDAR Localization for Autonomous Vehicles," in

Proc. of the IEEE Intl. Conf. on Robotics & Automation (ICRA)

, 2021.
[BibTeX] [PDF] [Code] [Video]

@inproceedings{chen2021icra,
author = {X. Chen and I. Vizzo and T. L{\"a}be and J. Behley and C. Stachniss},
title = {{Range Image-based LiDAR Localization for Autonomous Vehicles}},
booktitle = icra,
year = 2021,
url = {https://www.ipb.uni-bonn.de/pdfs/chen2021icra.pdf},
codeurl = {https://github.com/PRBonn/range-mcl},
videourl = {https://youtu.be/hpOPXX9oPqI},
}
2020
C. Stachniss, I. Vizzo, L. Wiesmann, and N. Berning,

How To Setup and Run a 100\% Digital Conf.: DIGICROP 2020

, 2020.
[BibTeX] [PDF]


The purpose of this record is to document the setup and execution of DIGICROP 2020 and to simplify conducting future online events of that kind. DIGICROP 2020 was a 100\% virtual conference run via Zoom with around 900 registered people in November 2020. It consisted of video presentations available via our website and a single-day live event for Q&A. We had around 450 people attending the Q&A session overall, most of the time 200-250 people have been online at the same time. This document is a collection of notes, instructions, and todo lists. It is not a polished manual, however, we believe these notes will be useful for other conference organizers and for us in the future.

@misc{stachniss2020digitalconf,
author = {C. Stachniss and I. Vizzo and L. Wiesmann and N. Berning},
title = {{How To Setup and Run a 100\% Digital Conf.: DIGICROP 2020}},
year = {2020},
url = {https://www.ipb.uni-bonn.de/pdfs/stachniss2020digitalconf.pdf},
abstract = {The purpose of this record is to document the setup and execution of DIGICROP 2020 and to simplify conducting future online events of that kind. DIGICROP 2020 was a 100\% virtual conference run via Zoom with around 900 registered people in November 2020. It consisted of video presentations available via our website and a single-day live event for Q&A. We had around 450 people attending the Q&A session overall, most of the time 200-250 people have been online at the same time. This document is a collection of notes, instructions, and todo lists. It is not a polished manual, however, we believe these notes will be useful for other conference organizers and for us in the future.},
}
2019
A. Milioto, I. Vizzo, J. Behley, and C. Stachniss, "RangeNet++: Fast and Accurate LiDAR Semantic Segmentation," in

Proc. of the IEEE/RSJ Intl. Conf. on Intelligent Robots and Systems (IROS)

, 2019.
[BibTeX] [PDF] [Code] [Video]

@inproceedings{milioto2019iros,
author = {A. Milioto and I. Vizzo and J. Behley and C. Stachniss},
title = {{RangeNet++: Fast and Accurate LiDAR Semantic Segmentation}},
booktitle = iros,
year = 2019,
codeurl = {https://github.com/PRBonn/lidar-bonnetal},
videourl = {https://youtu.be/wuokg7MFZyU},
}