Dr.-Ing. Susanne Wenzel
Postdoctoral researcher
Contact:
Email:
wenzel@

null

igg.uni-bonn.de
Tel: +49 – 228 – 73 – 2906
Fax: +49 – 228 – 73 – 27 12
Office: Nussallee 15, 1. OG, room 1.006
Address:
University of Bonn
Photogrammetry, IGG
Nussallee 15
53115 Bonn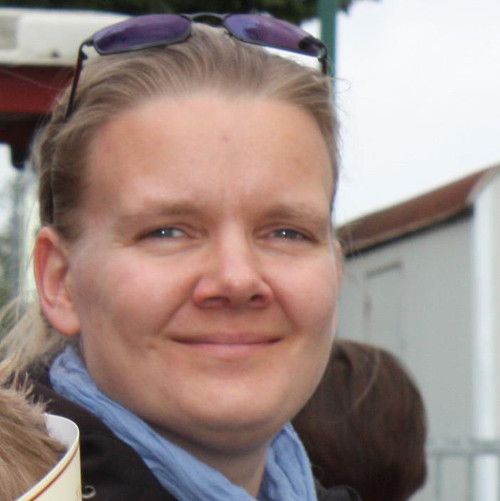 Research Interests
Pattern recognition and image interpretation
Machine Learning
Deep Learning
Markov Marked Point Processes
Hierarchical image features
Symmetries and repeated structures in images
Short CV
Susanne Wenzel is a postdoctoral researcher and teaching assistant at the Photogrammetry group. Besides she is a scientific coordinator at the Forschungszentrum Jülich.
In February 2018 she joined the
Big Data Analytics Group
at
Institute of Neuroscience and Medicine, Structural and functional organisation of the brain (INM-1)
as a scientific coordinator. In the summer term of 2018 she will give the lecture in Photogrammetry I before she finally moves to Forschungszentrum Jülich. From Oktober 2015 to February 2018 she was managing the genesis of a new Master program at IGG, entitled
Geodetic Engineering
, which has been started in October 2017.
Susanne finished her PhD in 2016 entitled "
High-Level Facade Image Interpretation using Marked Point Processes
" supervised by Wolfgang Förstner at University of Bonn. She studied Geodesy at the Technical University of Berlin and University of Bonn. Before studying, she passed the professional training for surveying technician at the Berlin Senate of Urban Development, Department for Geodesy and Geoinformation and worked there as a technical assistant.
In her research, she aims at the semantic interpretation of facade images, focusing on the combination of bottom-up image interpretation and high-level image interpretation methods from top-down, especially Markov marked point processes.
Awards
Faculty Teaching Award 2014
Faculty Award for the best student in 2007 in Geodesy and Geoinformation
Turbo-Preis 2007 of Society for Geodesy, Geoinformation and Land Management (DVW)
Teaching
Lectures and Exercises Photogrammetrie I, SS18
Lectures and Exercises Photogrammetrie II, WS18/19
Exercises BA Photogrammetrie I and II since 2009
Lectures and Exercises MA Photogrammetrie und Fernerkundung, WS13/14
Exercises MA Photogrammetrie und Fernerkundung, WS12/13
Lectures Photogrammetrie II, WS09/10
Exercises 3D-Koordinatensysteme, WS07/08
Exercises Projektive Geometrie, SS08
Supervision
Katharina Franz, Ocean Eddy Identification and Tracking using Neural Networks, Master's Thesis, 2017/2018 – in progress
Anne Braakmann-Folgmann, Sea Surface Height Prediction using Recurrent Neural Networks, Master's Thesis, 2017
Anika Bettge, Deep Self-taught Learning for Remote Sensing Image Classification, Master's Thesis, 2017
Jana Kierdorf, Spektrales Clustering mittels Sparse Representation-basierten Graphen, Bachelorarbeit, 2017
Martin Obersheimer, Untersuchung von Form-Deskriptoren als Merkmale für die Detektion der Stämme von Unkräutern und Nutzpflanzen, Bachelorarbeit, 2017
Johannes Kinast, Untersuchung latenter Spuren auf variablen Spurenträgern mit hyperspektralen Bildgebungsverfahren, Bachelorarbeit, 2016
Philipp Lottes, Bildbasierte Klassifikation von Zuckerrüben und Unkräutern für mobile Roboter, Masterarbeit, 2015
Till Schubert, Investigation of Latent Traces Using Hyperspectral Imaging, Bachelor's Thesis, SS 2015
Mareike Flick, Localization using Open Street Map Data, Bachelor's Thesis, SS 2014
Katharina Franz, Bestimmung der Trajektorie des ATV-4 bei der Separation von der Ariane-5 Oberstufe aus einer Stereo-Bildsequenz, Bachelorarbeit, SS 2014
Eva Börgens, Anke Sausen, Relative Orientierung aus Kreisen, Masterprojekt Projektive Geometrie und Statistik, SS 2013
Annemarie Kunkel, Detektion von Beeren in Bildern zur Ableitung phänotypischer Merkmale, Masterprojekt, SS 2012 – WS 2012/2013
Christiane Staat, Klassifikation und Detektion von Weinbeeren in Bildern über Dictionary Learning, Masterprojekt, SS 2012 – WS 2012/2013
Philip Alexander Becker, 3D Rekonstruktion symmetrischer Objekte aus Tiefenbildern, Bachelorarbeit, SS 2012
Bernd Uebbing, Untersuchung zur Nutzung wiederholter Strukturen für die 3D Rekonstruktion aus Einzelaufnahmen, Bachelorarbeit, 2011.
Johannes Schneider, Untersuchung von Farbinvarianten für die Erzeugung von Merkmalsdeskriptoren, Bachelorarbeit, 2009.
Publications
2018
L. Drees, R. Roscher, and S. Wenzel, "Archetypal Analysis for Sparse Representation-based Hyperspectral Sub-Pixel Quantification,"

Photogrammetric Engineering & Remote Sensing

, 2018.
[BibTeX] [PDF]

@Article{drees2018arxiv,
author = {Drees, L. and Roscher, R. and Wenzel, S.},
title = {Archetypal Analysis for Sparse Representation-based Hyperspectral Sub-Pixel Quantification},
journal = {Photogrammetric Engineering \& Remote Sensing},
year = {2018},
note = {accepted},
url = {https://arxiv.org/abs/1802.02813},
}

K. Franz, R. Roscher, A. Milioto, S. Wenzel, and J. Kusche, "Ocean Eddy Identification and Tracking using Neural Networks," in

IEEE International Geoscience and Remote Sensing Symposium (IGARSS)

, 2018.
[BibTeX] [PDF]

@InProceedings{franz2018ocean,
author = {Franz, K. and Roscher, R. and Milioto, A. and Wenzel, S. and Kusche, J.},
title = {Ocean Eddy Identification and Tracking using Neural Networks},
booktitle = {IEEE International Geoscience and Remote Sensing Symposium (IGARSS)},
year = {2018},
note = {accepted},
url = {https://arxiv.org/abs/arXiv:1803.07436},
}
2017
2016
2013
S. Wenzel and W. Förstner, "Finding Poly-Curves of Straight Line and Ellipse Segments in Images,"

Photogrammetrie, Fernerkundung, Geoinformation (PFG)

, vol. 4, p. 297–308, 2013. doi:10.1127/1432-8364/2013/0178
[BibTeX]


Simplification of given polygons has attracted many researchers. Especially, finding circular and elliptical structures in images is relevant in many applications. Given pixel chains from edge detection, this paper proposes a method to segment them into straight line and ellipse segments. We propose an adaption of Douglas-Peucker's polygon simplification algorithm using circle segments instead of straight line segments and partition the sequence of points instead the sequence of edges. It is robust and decreases the complexity of given polygons better than the original algorithm. In a second step, we further simplify the poly-curve by merging neighbouring segments to straight line and ellipse segments. Merging is based on the evaluation of variation of entropy for proposed geometric models, which turns out as a combination of hypothesis testing and model selection. We demonstrate the results of {\tt circlePeucker} as well as merging on several images of scenes with significant circular structures and compare them with the method of {\sc Patraucean} et al. (2012).

@Article{wenzel2013finding,
title = {Finding Poly-Curves of Straight Line and Ellipse Segments in Images},
author = {Wenzel, Susanne and F\"orstner, Wolfgang},
journal = {Photogrammetrie, Fernerkundung, Geoinformation (PFG)},
year = {2013},
pages = {297--308},
volume = {4},
abstract = {Simplification of given polygons has attracted many researchers. Especially, finding circular and elliptical structures in images is relevant in many applications. Given pixel chains from edge detection, this paper proposes a method to segment them into straight line and ellipse segments. We propose an adaption of Douglas-Peucker's polygon simplification algorithm using circle segments instead of straight line segments and partition the sequence of points instead the sequence of edges. It is robust and decreases the complexity of given polygons better than the original algorithm. In a second step, we further simplify the poly-curve by merging neighbouring segments to straight line and ellipse segments. Merging is based on the evaluation of variation of entropy for proposed geometric models, which turns out as a combination of hypothesis testing and model selection. We demonstrate the results of {\tt circlePeucker} as well as merging on several images of scenes with significant circular structures and compare them with the method of {\sc Patraucean} et al. (2012).},
doi = {10.1127/1432-8364/2013/0178},
file = {Technical Report:Wenzel2013Finding.pdf},
}

S. Wenzel and W. Förstner, "Finding Poly-Curves of Straight Line and Ellipse Segments in Images," Department of Photogrammetry, University of Bonn, TR-IGG-P-2013-02, 2013.
[BibTeX] [PDF]


Simplification of given polygons has attracted many researchers. Especially, finding circular and elliptical structures in images is relevant in many applications. Given pixel chains from edge detection, this paper proposes a method to segment them into straight line and ellipse segments. We propose an adaption of Douglas-Peucker's polygon simplification algorithm using circle segments instead of straight line segments and partition the sequence of points instead the sequence of edges. It is robust and decreases the complexity of given polygons better than the original algorithm. In a second step, we further simplify the poly-curve by merging neighbouring segments to straight line and ellipse segments. Merging is based on the evaluation of variation of entropy for proposed geometric models, which turns out as a combination of hypothesis testing and model selection. We demonstrate the results of {\tt circlePeucker} as well as merging on several images of scenes with significant circular structures and compare them with the method of {\sc Patraucean} et al. (2012).

@TechReport{wenzel2013findingtr,
title = {Finding Poly-Curves of Straight Line and Ellipse Segments in Images},
author = {Wenzel, Susanne and F\"orstner, Wolfgang},
institution = {Department of Photogrammetry, University of Bonn},
year = {2013},
month = {July},
number = {TR-IGG-P-2013-02},
abstract = {Simplification of given polygons has attracted many researchers. Especially, finding circular and elliptical structures in images is relevant in many applications. Given pixel chains from edge detection, this paper proposes a method to segment them into straight line and ellipse segments. We propose an adaption of Douglas-Peucker's polygon simplification algorithm using circle segments instead of straight line segments and partition the sequence of points instead the sequence of edges. It is robust and decreases the complexity of given polygons better than the original algorithm. In a second step, we further simplify the poly-curve by merging neighbouring segments to straight line and ellipse segments. Merging is based on the evaluation of variation of entropy for proposed geometric models, which turns out as a combination of hypothesis testing and model selection. We demonstrate the results of {\tt circlePeucker} as well as merging on several images of scenes with significant circular structures and compare them with the method of {\sc Patraucean} et al. (2012).},
url = {http://www.ipb.uni-bonn.de/pdfs/Wenzel2013Finding.pdf},
}
2012
S. Wenzel and W. Förstner, "Learning a compositional representation for facade object categorization," in

ISPRS Annals of Photogrammetry, Remote Sensing and the Spatial Information Sciences; Proc. of 22nd Congress of the International Society for Photogrammetry and Remote Sensing (ISPRS)

, 2012, p. 197–202. doi:10.5194/isprsannals-I-3-197-2012
[BibTeX] [PDF]


Our objective is the categorization of the most dominant objects in facade images, like windows, entrances and balconies. In order to execute an image interpretation of complex scenes we need an interaction between low level bottom-up feature detection and highlevel inference from top-down. A top-down approach would use results of a bottom-up detection step as evidence for some high-level inference of scene interpretation. We present a statistically founded object categorization procedure that is suited for bottom-up object detection. Instead of choosing a bag of features in advance and learning models based on these features, it is more natural to learn which features best describe the target object classes. Therefore we learn increasingly complex aggregates of line junctions in image sections from man-made scenes. We present a method for the classification of image sections by using the histogram of diverse types of line aggregates.

@InProceedings{wenzel2012learning,
title = {Learning a compositional representation for facade object categorization},
author = {Wenzel, Susanne and F\"orstner, Wolfgang},
booktitle = {ISPRS Annals of Photogrammetry, Remote Sensing and the Spatial Information Sciences; Proc. of 22nd Congress of the International Society for Photogrammetry and Remote Sensing (ISPRS)},
year = {2012},
number = { 2012},
pages = {197--202},
volume = {I-3},
abstract = {Our objective is the categorization of the most dominant objects in facade images, like windows, entrances and balconies. In order to execute an image interpretation of complex scenes we need an interaction between low level bottom-up feature detection and highlevel inference from top-down. A top-down approach would use results of a bottom-up detection step as evidence for some high-level inference of scene interpretation. We present a statistically founded object categorization procedure that is suited for bottom-up object detection. Instead of choosing a bag of features in advance and learning models based on these features, it is more natural to learn which features best describe the target object classes. Therefore we learn increasingly complex aggregates of line junctions in image sections from man-made scenes. We present a method for the classification of image sections by using the histogram of diverse types of line aggregates.},
city = {Melbourne},
doi = {10.5194/isprsannals-I-3-197-2012},
proceeding = {ISPRS Annals of Photogrammetry, Remote Sensing and the Spatial Information Sciences; Proc. of 22nd Congress of the International Society for Photogrammetry and Remote Sensing (ISPRS)},
url = {http://www.ipb.uni-bonn.de/pdfs/Wenzel2012Learning.pdf},
}
2010
S. Wenzel and L. Hotz, "The Role of Sequences for Incremental Learning," in

ICAART 2010 – Proc. of the International Conf. on Agents and Artificial Intelligence

, Valencia, Spain, 2010, p. 434–439.
[BibTeX] [PDF]


In this paper, we point out the role of sequences of samples for training an incremental learning method. We define characteristics of incremental learning methods to describe the influence of sample ordering on the performance of a learned model. We show the influence of sequence for two different types of incremental learning. One is aimed on learning structural models, the other on learning models to discriminate object classes. In both cases, we show the possibility to find good sequences before starting the training.

@InProceedings{wenzel2010role,
title = {The Role of Sequences for Incremental Learning},
author = {Wenzel, Susanne and Hotz, Lothar},
booktitle = {ICAART 2010 - Proc. of the International Conf. on Agents and Artificial Intelligence},
year = {2010},
address = {Valencia, Spain},
editor = {Joaquim Filipe and Ana L. N. Fred and Bernadette Sharp},
month = jan,
pages = {434--439},
publisher = {INSTICC Press},
volume = {1},
abstract = {In this paper, we point out the role of sequences of samples for training an incremental learning method. We define characteristics of incremental learning methods to describe the influence of sample ordering on the performance of a learned model. We show the influence of sequence for two different types of incremental learning. One is aimed on learning structural models, the other on learning models to discriminate object classes. In both cases, we show the possibility to find good sequences before starting the training.},
isbn = {978-989-674-021-4},
timestamp = {2011.01.18},
url = {http://www.ipb.uni-bonn.de/pdfs/Wenzel2010Role.pdf},
}
2009
S. Wenzel and W. Förstner, "The Role of Sequences for Incremental Learning," Department of Photogrammetry, University of Bonn, TR-IGG-P-2009-04, 2009.
[BibTeX] [PDF]


This report points out the role of sequences of samples for training an incremental learning method. We define characteristics of incremental learning methods to describe the influence of sample ordering on the performance of a learned model. Different types of experiments evaluate these properties for two different datasets and two different incremental learning methods. We show how to find sequences of classes for training just based on the data to get always best possible error rates. This is based on the estimation of Bayes error bounds.

@TechReport{wenzel2009role,
title = {The Role of Sequences for Incremental Learning},
author = {Wenzel, Susanne and F\"orstner, Wolfgang},
institution = {Department of Photogrammetry, University of Bonn},
year = {2009},
month = oct,
number = {TR-IGG-P-2009-04},
abstract = {This report points out the role of sequences of samples for training an incremental learning method. We define characteristics of incremental learning methods to describe the influence of sample ordering on the performance of a learned model. Different types of experiments evaluate these properties for two different datasets and two different incremental learning methods. We show how to find sequences of classes for training just based on the data to get always best possible error rates. This is based on the estimation of Bayes error bounds.},
url = {http://www.ipb.uni-bonn.de/pdfs/Wenzel2009Role.pdf},
}
2008
S. Wenzel, M. Drauschke, and W. Förstner, "Detection of repeated structures in facade images,"

Pattern Recognition and Image Analysis

, vol. 18, iss. 3, p. 406–411, 2008. doi:10.1134/S1054661808030073
[BibTeX] [PDF]


We present a method for detecting repeated structures, which is applied on facade images for describing the regularity of their windows. Our approach finds and explicitly represents repetitive structures and thus gives initial representation of facades. No explicit notion of a window is used; thus, the method also appears to be able to identify other manmade structures, e.g., paths with regular tiles. A method for detection of dominant symmetries is adapted for detection of multiply repeated structures. A compact description of the repetitions is derived from the detected translations in the image by a heuristic search method and the criterion of the minimum description length.

@Article{wenzel2008detection,
title = {Detection of repeated structures in facade images},
author = {Wenzel, Susanne and Drauschke, Martin and F\"orstner, Wolfgang},
journal = {Pattern Recognition and Image Analysis},
year = {2008},
month = sep,
number = {3},
pages = {406--411},
volume = {18},
abstract = {We present a method for detecting repeated structures, which is applied on facade images for describing the regularity of their windows. Our approach finds and explicitly represents repetitive structures and thus gives initial representation of facades. No explicit notion of a window is used; thus, the method also appears to be able to identify other manmade structures, e.g., paths with regular tiles. A method for detection of dominant symmetries is adapted for detection of multiply repeated structures. A compact description of the repetitions is derived from the detected translations in the image by a heuristic search method and the criterion of the minimum description length.},
doi = {10.1134/S1054661808030073},
url = {http://www.ipb.uni-bonn.de/pdfs/Wenzel2008Detection.pdf},
}

S. Wenzel and W. Förstner, "Semi-supervised incremental learning of hierarchical appearance models," in

21st Congress of the International Society for Photogrammetry and Remote Sensing (ISPRS)

, Beijing, China, 2008, p. 399–404 Part B3b-2.
[BibTeX] [PDF]


We propose an incremental learning scheme for learning a class hierarchy for objects typically occurring multiple in images. Given one example of an object that appears several times in the image, e.g. is part of a repetitive structure, we propose a method for identifying prototypes using an unsupervised clustering procedure. These prototypes are used for building a hierarchical appearance based model of the envisaged class in a supervised manner. For classification of new instances detected in new images we use linear subspace methods that combine discriminative and reconstructive properties. The used methods are chosen to be capable for an incremental update. We test our approach on facade images with repetitive windows and balconies. We use the learned object models to find new instances in other images, e. g. the neighbouring facade and update already learned models with the new instances.

@InProceedings{wenzel2008semi,
title = {Semi-supervised incremental learning of hierarchical appearance models},
author = {Wenzel, Susanne and F\"orstner, Wolfgang},
booktitle = {21st Congress of the International Society for Photogrammetry and Remote Sensing (ISPRS)},
year = {2008},
address = {Beijing, China},
pages = {399--404 Part B3b-2},
abstract = {We propose an incremental learning scheme for learning a class hierarchy for objects typically occurring multiple in images. Given one example of an object that appears several times in the image, e.g. is part of a repetitive structure, we propose a method for identifying prototypes using an unsupervised clustering procedure. These prototypes are used for building a hierarchical appearance based model of the envisaged class in a supervised manner. For classification of new instances detected in new images we use linear subspace methods that combine discriminative and reconstructive properties. The used methods are chosen to be capable for an incremental update. We test our approach on facade images with repetitive windows and balconies. We use the learned object models to find new instances in other images, e. g. the neighbouring facade and update already learned models with the new instances.},
url = {http://www.ipb.uni-bonn.de/pdfs/Wenzel2008Semi.pdf},
}
2007
2006
S. Wenzel, "Detektion wiederholter und symmetrischer Strukturen von Objekten in Bildern," Diplomarbeit Master Thesis, 2006.
[BibTeX] [PDF]


Sich wiederholende bzw. symmetrische Strukturen sind Hinweise auf künstliche Objekte, führen aber auch zu Schwierigkeiten bei klassischen Bildzuordnungsverfahren. Die Suche und Gruppierung zusammengehöriger Features kann daher zur Identifikation künstlicher Objekte oder zur Verbesserung von Zuordnungsverfahren dienen. Darüber hinaus kann man aus einem Bild eines im Raum symmetrischen Objekts auf die 3D-Struktur dieses Objekts schließen. Die Diplomarbeit soll das von Loy und Eklundh auf der ECCV 2006 vorgestellte Verfahren zur Detektion symmetrischer und wiederholter Bildbereiche implementieren und hinsichtlich seiner Verwendbarkeit für photogrammetrische Gebäudeaufnahmen überprüfen. Insbesondere geht es um die Detektierbarkeit regelmäßiger Fassadenstrukturen in Abhängigkeit von ihrer Komplexität. Darüber hinaus ist zu klären, wie mehrfache Symmetrien identifiziert und ggf. für die 3D-Rekonstruktion des regelmä\ssigen Teils der Fassadenstruktur genutzt werden können.

@MastersThesis{wenzel2006detektion,
title = {Detektion wiederholter und symmetrischer Strukturen von Objekten in Bildern},
author = {Wenzel, Susanne},
school = {Institute of Photogrammetry, University of Bonn},
year = {2006},
note = {Betreuung: Prof. Dr.-Ing. Wolfgang F\"orstner, Dipl.-Inform. Martin Drauschke},
type = {Diplomarbeit},
abstract = {Sich wiederholende bzw. symmetrische Strukturen sind Hinweise auf k\"unstliche Objekte, f\"uhren aber auch zu Schwierigkeiten bei klassischen Bildzuordnungsverfahren. Die Suche und Gruppierung zusammengeh\"origer Features kann daher zur Identifikation k\"unstlicher Objekte oder zur Verbesserung von Zuordnungsverfahren dienen. Dar\"uber hinaus kann man aus einem Bild eines im Raum symmetrischen Objekts auf die 3D-Struktur dieses Objekts schlie{\ss}en. Die Diplomarbeit soll das von Loy und Eklundh auf der ECCV 2006 vorgestellte Verfahren zur Detektion symmetrischer und wiederholter Bildbereiche implementieren und hinsichtlich seiner Verwendbarkeit f\"ur photogrammetrische Geb\"audeaufnahmen \"uberpr\"ufen. Insbesondere geht es um die Detektierbarkeit regelm\"a{\ss}iger Fassadenstrukturen in Abh\"angigkeit von ihrer Komplexit\"at. Dar\"uber hinaus ist zu kl\"aren, wie mehrfache Symmetrien identifiziert und ggf. f\"ur die 3D-Rekonstruktion des regelm\"a\ssigen Teils der Fassadenstruktur genutzt werden k\"onnen.},
city = {Bonn},
url = {http://www.ipb.uni-bonn.de/pdfs/Wenzel2006Detektion.pdf},
}